ImfinoNews
Austrian printing and communications company gugler focuses on innovative closed cycle model for waste prevention as a contribution to the SDGs
Tweet
SDG 3: Good health and well-being, SDG 7: Affordable and clean energy, SDG 8: Decent work and economic growth, SDG 9: Industry, innovation and infrastructure, SDG 12: Responsible consumption and production, SDG 13: Climate action, SDG 15: Life on land, SDG 17: Partnerships for the goals,
Jan 2019
Vienna, January 16, 2019 - Eco-Effectiveness through "Cradle to Cradle"
"Cradle to Cradle" – abbreviated "C2C" - describes the vision of a waste-free economy, where no substances that damage either human health or the environment are used for production any more and, consequently, all materials can be reintegrated into continuous natural cycles or into closed technical cycles to make the same product without losing their integrity or quality. This at least is the fundamental assumption of the inventors of this system – German chemistry professor and eco-visionary Michael Braungart and U.S architect William McDonough. With their C2C principle, Braungart and McDonough advocate a system that relies on eco-effectiveness rather than eco-efficiency. While the latter aims at simply using fewer resources, thus minimizing harmful emissions and their negative effect on the environment, eco-effectiveness is about producing goods so that there is no waste in the first place that needs to be disposed of. Instead, all resources that went into the production process will be reused for the next production cycle. Eco-effectiveness works according to the principle: Waste is food!
Based on this principle, a product certification process was developed that enables companies to document the sustainability and eco-friendliness of both the design and the production of their goods. Also, the certification criteria can serve as a guide for potential customers who are interested in products with high sustainability standards. The Cradle to Cradle®-Certificate guarantees the use of recyclable materials (that can either be technically re-utilized or decomposed) and of renewable energy in the production process; the responsible use of water as well as a commitment on the part of company in question to generally-acknowledged Corporate Social Responsibility (CSR) standards. According to how many criteria a company meets, it is awarded a certificate in the categories "Basic", "Silver", "Gold" or "Platinum" for one year.
Sustainability and Success Go Hand in Hand at gugler's
With the ecological printing company gugler* pure print in Melk und the communication and brand company gugler* brand & digital in St. Pölten (both in Lower Austria), the family enterprise that was founded by Ernst Gugler almost 30 years ago, has established itself as a pioneer in the field of innovative and sustainable print and media production and positioned itself as one of Austria's big and widely-known ecological trademarks. Currently, approximately 100 employees work at the company's two locations. In 2017, gugler opened Austria's first Cradle to Cradle™-inspired plus-energy building on its site. The building is almost entirely recyclable and gugler's own photovoltaic system delivers the energy needed for its operation. In 2011, gugler* print became the first printing company worldwide that made Cradle to Cradle™- certified print products.
Printing according to ecological principles – how does this work in practice?
How is the "cradle to cradle" principle applied to the printing process? How does ecologically responsible printing actually work in practice? An answer to these questions can be found on the gugler* print website, where a video explains the applicability of "Cradle to Cradle" to the printing process. As a first step, all production materials are tested regarding their safety for human health and the environment. Once the paper, inks and additive substances are found to be safe in every respect, complete recycling – in this case, decomposing – becomes possible. This is a process were not just the pulp is fed back into the cycle, but also the sludge produced in the printing process. In a conventional printing process, this sludge would be toxic and would have to be disposed of separately as hazardous waste. In the "Cradle to Cradle" production process, the sludge can be re-utilized as fertilizer or for generating humus. "And if this humus does not end up on a field, it might become the basis for new trees that will then provide the pulp for paper." This is gugler's vision!
In 2018, the company got awarded the "C2C" gold standard. "This is as green as it gets,"  was the conclusion of the WWF Climate Group in its annual report, where they praised gugler's use of resources: "Circular economy is a top priority with gugler – in every respect."
Global Compact Partner for the SDGs
With this vision of a completely circular economy, it is not surprising that gugler has gotten one hundred percent behind the UN Sustainable Development Goals (SDGs). Aside from their large range of environmentally-friendly print products – from brochures, catalogues, children's books to Christmas gift wrapping paper – the company is committed to sustainability in other areas as well. "We have taken numerous measures to promote the SDGs – for instance by setting up a vegetarian canteen where only organic products are used to cook the meals, or by constructing a wooden building strictly according to plus-energy standards," founder and Managing Director Ernst Gugler listed his company's SDG-related efforts in an interview. As a Global Compact Austria partner, gugler has also made a clear, unequivocal commitment to the implementation of the 10 Universal Principles of the UN Global Compact – including issues such as employment standards, human rights, environmental protection and the fight against corruption – as well as the promotion of the 17 UN Sustainable Development Goals. In particular, gugler was successful in implementing Goals 12 and 17: responsible consumption and production through use of the Cradle to Cradle Principle, as well as the establishment of partnerships with other companies in order to revolutionize the printing industry worldwide through knowledge-sharing.
Spreading Information and Know-how Internationally: Print the Change Community
In order to achieve this goal, gugler, in 2015, founded the "Print the Change Community" by getting the Swiss printing company Vögeli as well as the Danish enterprise KLS on board. As partners, they intend to advance the research and development on "Cradle to Cradle."  
For more information, go to:
https://www.gugler.at/index.php?id=1571
https://www.gugler.at/fileadmin/root_gugler_dachseite/presse/pressespiegel/pdf2018/gugler_INNENANSICHTENIII-final.PDF
https://www.gugler.at/fileadmin/root_gugler_dachseite/presse/pressespiegel/pdf2018/20180228_PRINT___PUBLISHING_Sinnstiftung.pdf
https://www.gugler.at/fileadmin/root_gugler_dachseite/presse/pressespiegel/pdf2018/20180219_VN_PlaedoyerfuerdengutenUeberfluss.jpg
https://www.nachhaltigkeit.info/artikel/1_3_f_cradle_to_cradle_vision_1544.htm
https://reset.org/wissen/cradle-cradle-recycling-rund-gemacht
https://www.zeit.de/2009/47/T-Cradle-to-Cradle
https://www.gugler.at/fileadmin/root_gugler_dachseite/presse/pressespiegel/pdf2018/WWF_climate_group_jahresbericht_gugler.pdf
https://www.animalfair.at/infothek/nicht-nur-fuer-leseratten-und-buecherwuermer/
https://globalcompact.at/das-netzwerk/
Inquiry and contact information
Petra Allekotte
imfino
n/a
newswire@imfino.org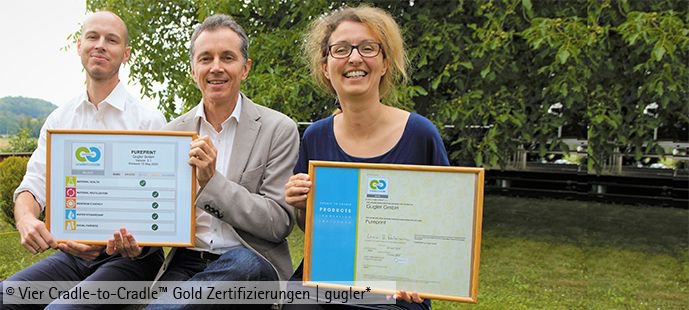 copyright: gugler