Tweet
SDG 8: Decent work and economic growth, SDG 9: Industry, innovation and infrastructure, SDG 13: Climate action,
Jan 2018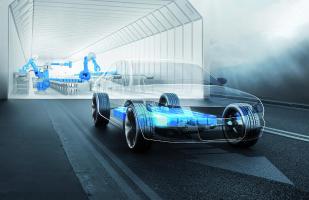 Powertrain Development and Test Systems RDI
Release date: 26 January 2018 - The European Investment Bank (EIB) is providing a EUR 70m loan to AVL List GmbH (AVL). Based in Austria, AVL is a world leader in the development of innovative powertrain systems together with the necessary measurement and testing technology and simulation software for the global automotive and transport industries. For 70 years, AVL has been working with global companies across the world in fields ranging from internal combustion engines, fuel cells and electric drives to alternative fuels, control software, transmissions and batteries.
The EU bank's loan is specifically targeted at supporting the business with its electric drive-related activities, including selected R&D projects for hybrid and fully electric powertrains as well as advanced driver assistance systems (ADAS) for connected and autonomous vehicles. The EIB loan was made possible by the European Fund for Strategic Investments (EFSI). EFSI is the main pillar of the Investment Plan for Europe (IPE), under which the EIB Group and the European Commission are working together as strategic partners to boost the competitiveness of the European economy.
The EIB Vice-President responsible for operations in Austria, Andrew McDowell, said: "I am particularly pleased that this new loan will continue our constructive and fruitful partnership between the EU Bank and AVL. As the EU Bank, we support pioneering technology companies like AVL, which are shaping the future with cost-efficient, sustainable, technological development. Cutting-edge technology creates jobs and fosters high-level expertise, thus having a direct and positive impact on people's daily lives. AVL is a major innovation leader in the powertrain sector, paving the way for more environmentally friendly vehicles and efficient measures to combat climate change, which is one of the EU bank's priorities."
European Commission Vice-President, Jyrki Katainen, responsible for Jobs, Growth, Investment and Competitiveness, said: "I am very pleased to see an Austrian company making the most of the Investment Plan. Thanks to support from the European Fund for Strategic Investments, the European Investment Bank is able to lend AVL EUR 70 million to expand its research and development activities, developing new, innovative and environmentally-friendly technology to use for the future of mobility. The Investment Plan continues to meet its objectives: boosting innovation, creating jobs and contributing to the Paris agreement goals to fight climate change. I hope to see more projects receiving financing in Austria in the near future."
AVL Group CFO Werner Schuster added: "This EIB loan represents the continuation of a successful partnership in place for more than ten years, which started in 2007 with the provision of one of the EIB's first direct corporate research, development and innovation loans in Europe. AVL will apply this financing to support in-house research for the development of electric drives for hybrids and e-vehicles, fuel-cell drive systems and autonomous vehicles (ADAS), as well as the development of the associated measurement, testing and simulation technology. With this financing, the EIB is making a major contribution to AVL's further development of highly creative, sophisticated and customised powertrain system solutions, including reduced CO2 emissions for more environmentally friendly vehicles."
Inquiry and contact information
Christof Roche
European Investment Bank
+32 27124129
c.roche@eib.org