ImfinoWire
Tweet
SDG 11: Sustainable cities and communities,
Aug 2018
August 23, 2018 - MacArthur today announced more than $26 million in new grants and impact investments to support organizations applying community-driven solutions to foster economic opportunity and equity and to increase peace and safety in Chicago neighborhoods that have experienced disinvestment, segregation, and isolation.
"A more peaceful city requires urgent attention to people and places that are most affected by violence. It also demands long-term investment in organizations and efforts that get at the root causes of violence, including racial and economic inequity, disinvestment, and isolation," MacArthur President Julia Stasch said. "We want to help local leaders, organizations, and networks across the city that are tackling both, with passion, persistence, creativity, and effectiveness."

Grants support 12 community organizations, collaborations, and networks seeking to foster economic and social opportunity and to increase peace and safety in Chicago neighborhoods. In addition, the Foundation is investing $15 million in the form of a low-interest loan to Self-Help Ventures Fund, to help strengthen an anchor Chicago financial institution. MacArthur's impact investment is supporting the efforts of Self-Help Federal Credit Union to stabilize and grow the recently acquired operations of Seaway Bank, which historically provided banking services in African-American communities on the city's South Side that lacked mainstream banking options. Complementing a similar investment in 2013 that secured the continuing operations of the former Second Federal Savings in the Little Village community on the West Side, this new investment will ensure capital and financial services are available to individuals and local businesses in Chicago's African-American communities.
MacArthur's Vital Communities strategy was developed in direct response to community-identified needs and existing initiatives. The Foundation invested targeted resources in collaborations such as the Greater Auburn-Gresham Development Corporation and the Southwest Organizing Project. Building on that approach, MacArthur is supporting the following initiatives and networks through four-year Vital Communities grants of $1 million each:
Austin Coming Together, a network of more than 50 community organizations serving this far West Side community, will implement a quality-of-life plan to expand opportunities for residents, promote economic development, improve public safety, and develop a vibrant real estate market.
Brighton Park Neighborhood Council, a coalition that includes 42 organizations in this Southwest Side community, will develop and implement a community-based public safety and economic development strategy that addresses barriers to employment, enhances job training and placement, and supports emerging community entrepreneurs.
Bright Star Community Outreach, which oversees a network of more than 40 community-based organizations, schools, institutions, and individuals working across Bronzeville, will implement a community action plan to help prevent violence through positive youth, family, and community development; trauma-informed care; education; and workforce development.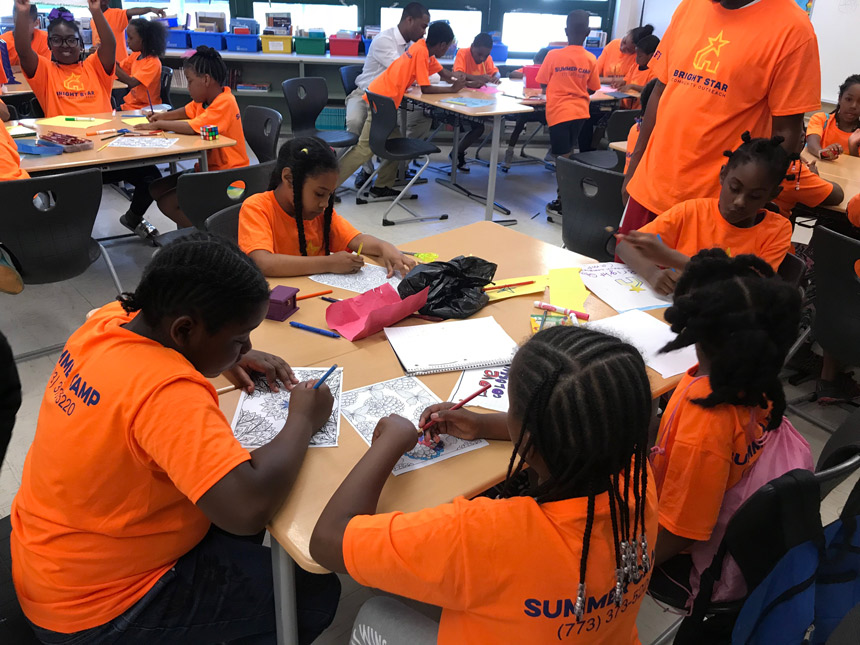 Children participating in Bright Star Community Outreach summer camp
Thriving communities require strong, resilient, generative, and compassionate organizations that are tackling barriers and working to increase the confidence, stability, power, and effectiveness of the community as a whole. Community Capital grants provide often-scarce institutional resources to help them gain strength, innovate, and grow, including building a cash reserve, developing a strategic plan, or making an investment in technology. The following local groups received four-year Community Capital grants: 
As a founding member of the Partnership for Safe and Peaceful Communities (PSPC), MacArthur, along with more than 35 local funders, is supporting proven and promising approaches to address gun violence in our city. To help create the conditions for violence prevention and reduction, members of the Partnership have committed more than $40 million to date to provide direct support and alternatives for those most affected by violence; to cultivate police legitimacy and advance reform; and to strengthen gun policy. MacArthur's investment is part of an issue-focused Civic Partnership on the most urgent challenge facing the city:
A dedicated fund at Chicago Community Trust ($2.6 million) to support programs operated by Metropolitan Family Services to diffuse violent situations and prevent retaliatory acts by professionalizing street outreach work and by Heartland Alliance to connect young people to transitional jobs, cognitive behavioral therapy, coaching, and other services; and
Chicago Fund for Safe and Peaceful Communities ($155,000) as a contribution to the $850,000 provided by members of the Partnership to support 132 neighborhood organizations working in 19 prioritized communities to reclaim parks, streets, and public areas to build community cohesion and crowd out violence this summer and fall; and
Civic Consulting Alliance ($620,000) to support its efforts to assist the Chicago Police Department in implementing reforms.
In 2017, MacArthur awarded 121 grants and impact investments totaling $40.2 million* to local nonprofit organizations.
"We spent more than a year listening to individuals and organizations representing a variety of issue areas, populations, sectors, and neighborhoods to inform our Chicago Commitment strategy," said Chicago Commitment Director Tara Magner. "That is why we support local nonprofits that address critical challenges, advance diverse leaders, cultivate creative expression, and bring about positive social change."
Inquiry and contact information
Andrew Solomon
MacArthur Foundation
n/a
asolomon@macfound.org